The new Auckland Grammar Sports Centre provides a versatile, highly durable resource for students' fitness, education and well-being.
IT IS A WIDELY held view that the most effective approach to our children's education is a holistic one. A school that places strong focus on mental advancement, socialisation and physical development is better equipped to ensure its students develop into healthy, well-adjusted young adults.
This approach can be seen at the heart of the recently completed Auckland Grammar Sports Centre, designed by architectural firm Architectus. The new facility offers an efficient, durable sporting venue that includes badminton courts, basketball and netball courts, changing rooms, and staff facilities. It also houses three teaching facilities, catering to a health education curriculum.
The project was overseen by Wallace Project Managements, and built by Aspec Construction and its subcontractors. Auckland Grammar School.
"Architects, board members and staff who are to use the building all visited other similarly focused projects to find out what had, and hadn't, worked best for them. We are in their debt, as this foreknowledge contributed greatly to the functionality of our complex."
The level of workmanship, from architects to sub-contractors, was fantastic throughout, says Barrie. "With 2500 boys using the centre, it had to offer everything from consummate floor surfaces to a light-flooded interior – reactions to the end result have been great from students, staff and parents alike."
With many build projects working to tight deadlines, there can be few more pressing agendas than the immovability of school term dates and the ebb and flow of thousands of children that go with them.
Aspec Construction undertook all carpentry work on the Auckland Grammar Sports Centre and the marshalling of the plethora of subcontractors involved. Quantity surveyor Nicola Chadbourne of Aspec Construction explains that close time lines and the buildability of erecting the roof early on in the project were two significant aspects of the job.
"Hiring the best contractors available and being able to rely on the high standard of their end product was central to keeping things to schedule," she says. "The innovative roof lift utilised prefabricated elements and some lateral thinking to create an umbrella of shelter for other work to progress. The 36m by 36m roof was built on the ground before being craned into place.
Substantial aspects of the build were the structural steel, the brickwork and large amounts of pre-cast concrete. Massive glazed panels under the roofline and the sprung wood floors were other equally important features, as was the roof itself.
With so many people using the facility every day, standards of durability had to be extremely high. "From pre-tensioned concrete floors to industrial-look exposed concrete and blockwork, everything is designed for safety, aesthetics and a very long life."
For details, contact Aspec Construction
phone (09) 309 3612.
ARTICLE BY TRENDS MAGAZINE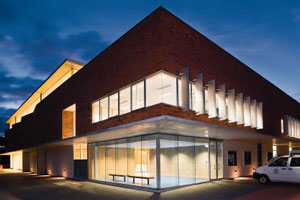 The new Auckland Grammar Sports Centre, designed by Architectus, provides a clean-lined addition to Auckland Grammar School. Contemporary elements include a faceted brick facade, glass surrounding the upper facade to maximise light and minimise glare, and panels of clear glass at ground level. These large glazed areas provide an easy visual connection between occupants of the complex and the adjacent outdoor courts.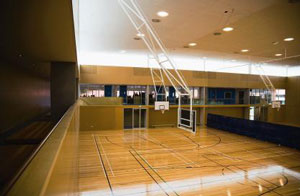 Non-marking corridor floors and supporting beams combine to give the interior a durable, semi-industrial feel. Even the transparent balustrading is constructed from resin laminated between sheets of glass for both safety and durability. A retractable curtain in the centre of the gymnasium allows dual use of the space. The interior is flooded with light due to the opaque glass completing the uppermost wall areas under the ceiling.